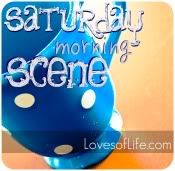 Today I'm doing Saturday Morning Scene with
Katie
from Loves of Life.
My Saturday Morning was spent cleaning my room. I know, fun eh!
As you can tell it was a MESS! I was going to sleep last night (yes, you caught me...this photo is from yesterday) and noticed how gross and ugly it made my room. Right then and there I said that I would clean it.
Look! Theres a desk under all that crap! Lots went into the garbage/is being donated! Win-win all around!
Have a great day :)